We aspire to become a R&D-oriented manufacturer
that achieves customer satisfaction
by keeping good partnership with our customers.
Grease, which is our core product,
is a vital material for equipment in every industry and every field.

NIPPECO is a manufacturer that supports industries
worldwide with lubricants and grease.
We have accumulated over 80 years of manufacturing technology
and experience under our corporate philosophy of developing
and providing various types of quality grease to match
differing customer needs for diverse industrial machine parts.

Our mission is to contribute to society through grease
and support people's prosperous lives and the industries
of today as well as tomorrow.
NPC Corporate Philosophy Triangle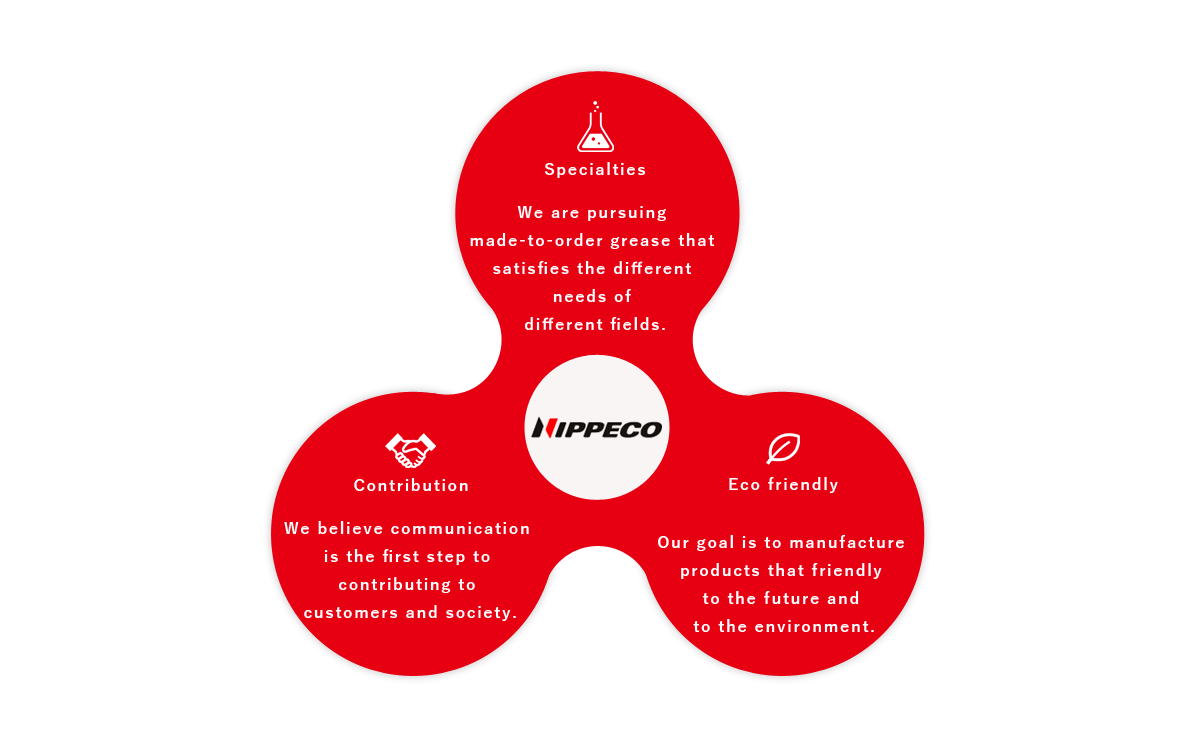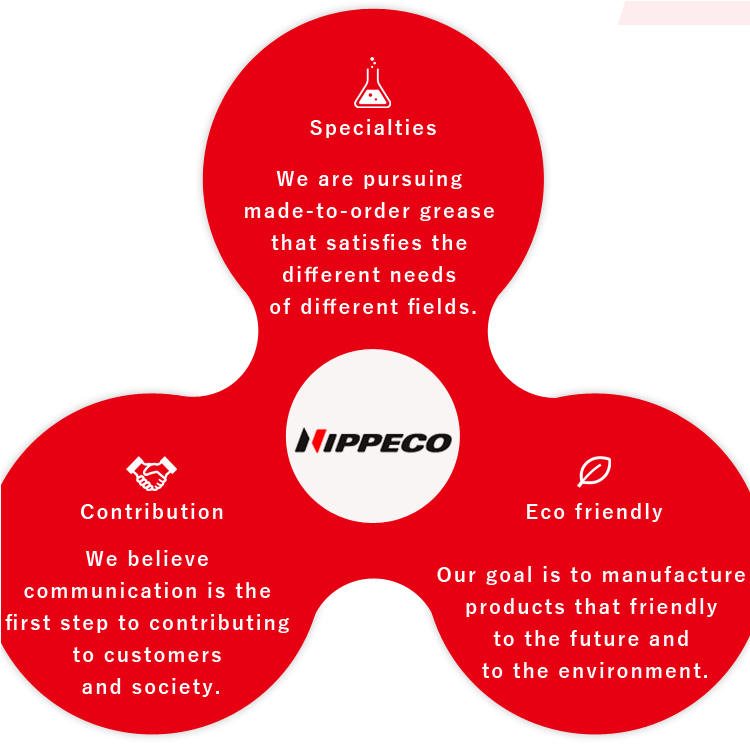 As technology and environment change at breakneck speed, we continue our tireless research and development to provide optimal grease for each company and each item of equipment.
Our sales and technical service staff work together to manufacture products to address our customers' challenges and support the development of all industries.
We develop and manufacture earth-friendly grease, such as Eco Mark certified environmentally-conscious grease and grease that saves resources.
Our research also looks to future needs.
Management Policy
We vigorously strengthen and improve our product development technology.
We develop new markets and new products.
We promote globalization.
We cultivate self-starters who can develop themselves.
We implement environmentally-conscious management.
Approach to Quality
We further deepen the trust our customers have in us through providing superior products that fulfill the requirements of our customers and of society.
We have become a strong, competitive company by continuously reviewing and improving the effectiveness of our quality management system.
We achieve our quality target by setting individual targets for each staff member in line with divisional quality objectives and carry out our business according to a PDCA management cycle.
Acquisition of ISO-9001 Certification (Quality Management System)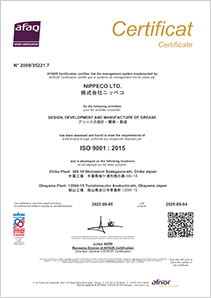 Specification
ISO 9001:2015
Registered Date
1998年 8月 Chiba Plant、Okayama Plant、Technical Dep.、Quality Assurance Dep.

Approach to Environment
NIPPECO considers the making of contributions to global environment conservation in every aspect of its corporate activities as a top priority issue. Especially, when manufacturing products, we care about coexisting with local communities and commit ourselves to preserving the global environment.
NIPPECO aims to build a more efficient and economical corporate activity system through the environmental management system activities.
NIPPECO abides by environmental laws, regulations and other requirements as well as setting targets for environment load reduction that it works hard to achieve.
NIPPECO promotes important activities such as reducing industrial waste, conserving energy and facilitating the self-management of harmful chemical substances.
In its business activities, NIPPECO continuously reduces or prevents environmental pollution as much as technically and economically possible.
NIPPECO keeps everyone working at or for NIPPECO well informed about the importance of environment management system and raises their environmental awareness.
Acquisition of ISO-14001 Certification (Environmental Management System)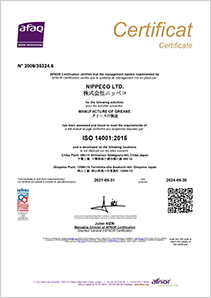 Specification
ISO 14001:2015
Registered Date
2004年 2月 Okayama Plant、Tokyo Plant
2009年 9月 Chiba Plant

Acquisition of Eco Mark Certification

NIPPECO was the first in Japan to acquire Eco Mark certification for our environmentally friendly grease. Its biodegradability has been verified by the OECD301B test.
Nippeco Bio Grease
Eco Mark product certification number
Nippeco Bio Grease LC No. 04110002
Nippeco Bio Grease MA No. 05110018